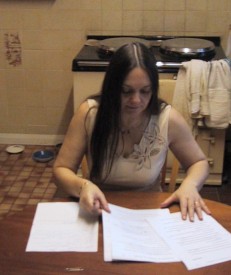 I was born in the North Finchley area of London (one of my more dubious claims to fame is that I once presented a bouquet of flowers to an up-and-coming young politician named Margaret Thatcher) and attended Frith Manor Junior School and then Copthall County Grammar School. I gained A-levels in Pure Maths, Applied Maths and Physics, then went to work as a computer programmer whilst doing an Honours Degree in Maths part-time for the next five years. This seemed eminently sensible at the time - being a way to earn a living, become independent and gain qualifications - but I do sometimes regret not going to University properly.
I worked at British Gas and the Royal School of Mines (teaching undergrads the same age as myself how to program and incidentally getting a taste of Uni life after all) before moving into the nuts-and-bolts of the computing industry. My final industry employer was Sir Clive Sinclair in Cambridge ('QL SuperBASIC - The Definitive Handbook' by Jan Jones is still occasionally to be found on 2nd-hand book sites).
I have always written and performed, but I started giving serious thought to novel-length fiction after my son was born. I joined the RNA and received much encouragement for my first New-Writer-Scheme entry. However, we had by this time moved to a small village near Newmarket and I found myself becoming involved in the community. I was already chairman of the Toddler group, but when my son was five and my daughter two, I started up a village playgroup as well. Writing time dwindled. I downsized to short stories (the best move as far as honing my craft was concerned that I could have made) with surprising success. I also wrote children's stories and rhymes, both for fun and for educational publications, and continued with my poetry, getting a number of poems into the small press.
Giving local children a start in life and seeing them grow was immensely rewarding, but after seven years it came to the point where I was spending more time filling in paperwork than playing with the kids. I decided it was time to change direction.
My resolve to write full-time coincided with my main magazine outlet folding. (Like other writers, I have folded several mags and small press titles along the way) Rather than giving in to paranoia, I decided this was a Sign that I should apply myself to novels once more.
Of course, I could have been wrong...

Top